Ocean Advocate Emily Penn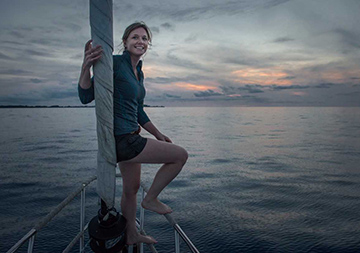 Ocean Advocate Emily Penn is one of the world's leading lights in the campaign against plastic pollution in our oceans. She has been for some 10 years and is mightily relieved that this intensely important issue has, at last, been thrust into the global limelight. Although a keen sailor throughout her life (the youngest female to receive the RYA Yachtmaster of the Year from HRH Princess Anne), Emily's interest in the health of our oceans began not from studying marine biology or similar, but by having enjoyed the experience of 'slow travel' and deciding to travel to her first post-graduation job as an architect in Australia by boat rather than aeroplane. She never arrived! She joined the crew of 'Earthrace', a record-breaking biodiesel fuelled rocket boat which visited cities around the world educating on forms of alternative energy. 923 days later, she had visited and seen many amazing sites but the shock of seeing such massive amounts of plastic waste - even thousands of miles from land - stayed with her…she had to do something.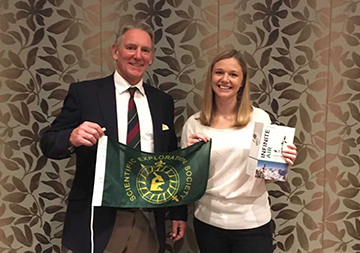 And my goodness she has. Her knowledge on making plastic, types of plastic, recycling plastic, chemicals in plastic, effects on land, effects in the water, effects on marine and wildlife, effects on the food chain; which countries offend, which countries advance in tackling the issues…is encyclopaedic. Her tireless work to enlighten people and organisations to the problems and issues is remarkable. And for those of us lucky enough to listen to her speak at The Park Tower Hotel on Wednesday 21st March 2018, her delivery and message will stay with us for a very long time, and doubtless inspire us to do our bit - at whatever level that might be.

Join us on Tuesday 22nd May 2018 to see Emily's tireless commitment to scientific exploration rewarded as she receives the SES Hotung Medal as one of the 'Pioneers with Purpose' the Society is so proud to recognise - BOOK YOUR TICKET TO THE SES EXPLORER AWARDS 2018 EVENT HERE.