March's SES@GauchoCity - Grand Slam Explorer Newall Hunter.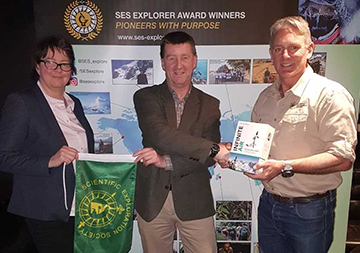 Newall Hunter is a remarkable man. It's not just the fact that he was the 13th person in the world, second Brit and first Scot to complete the full Explorers' Grand Slam, it's the way he has done it which is remarkable
"It's not difficult" he says casually in response to a question at the end of his presentation on his staggering achievement of having summited the highest mountain on each continent and skied to both poles. The purpose of Newall's expedition is to thoroughly enjoy the experience. There are challenges in the field, of course, but as a dyslexic engineer, the challenge to him lies principally in ensuring that the calculations, the equipment selection, the detailed logistics and efforts to pre-empt the most likely hazards before setting off, are covered in miniscule detail before departure.

We saw the spreadsheet on which he'd calculated not just the food needed for a solo ski to the South Pole, but the how much water he'd need to drink and for cooking, and how much fuel would be needed to melt sufficient snow. We saw the meticulous packing of two pulks rather than one - with equipment carefully shared between the two so if one was lost he could continue.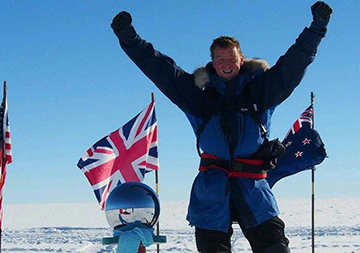 "Any fool can be uncomfortable" says the man who during that ski to the South Pole spent Christmas Day relaxing in his tent with 7 movies and a turkey dinner….. Newall's talk was enlightening and entertaining and thought provoking. He is a proper explorer and we thank him for sharing his insight with us.
For more information about Newall, please visit his website by CLICKING HERE

SES Trustee Peter Kohler will be talking about THE PLASTIC TIDE at April's SES@GauchoCity - book your tickets to this event (and many more exciting SES events) on EVENTBRITE. The SES@GauchoCity series is hosted by Gaucho City, and supported by Cadogan Tate and TexEnergy.